Swoon
Turn your bathroom into your favourite room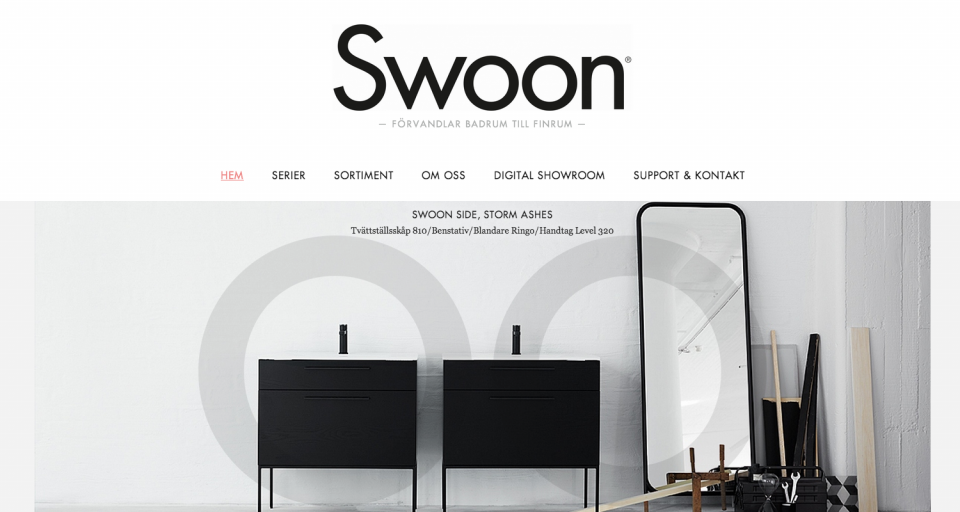 Introduction
Swoon wants to make it easier to create a personal styled bathroom, just as you would with the rest of your home. Their mission is to change each bathroom into a parlour without compromising on quality or functionality. Build your exclusive bathroom furniture online, in Swoon's digital showroom, and it will be sent from their factory in Småland, Sweden, to you. Fully assembled and ready to make your bathroom look stunning.
Challenge
Swoon came to us with an idea; they wanted to build a new type of e-commerce site. Not only should it showcase their stunning furnitures, it should also be made possible for the users to create their own furniture configurations via a digital showroom, in a simple way, yet true to Swoon's look and feel. It was important to have a solid filtering tool where the customer easy chose among Swoon's products, design and color, and with an cart optimized for conversion. Another key function was to make the site optimized for mobile experience.
Since their market stretches over a dozen countries, it was important that their site had multi language support, including support for each country's currency.
It was clear we had some pretty big challenges ahead, most prominent was the making of Swoon's digital Showroom with more then 30 million unique combinations of images and the optimization of mobile experience where big retina pictures should work just as well on mobile devices. All the while maintaining Swoon's visual identity and their sense of quality, exclusivity and professionalism.
Solution
After an extensive pilot study containing workshops and interviews together with Swoon, North Creation Agency made a PoC (Proof of Concept) which gave us a better understanding of just how complex the solution would become. From that, we set out to make Swoons vision a reality.
The system was created with mainly the Silvershop module where the most prominent challenge was the customizable digital showroom which was created bespoke for Swoons requirements. Keeping under budget and on time was in large part possible due to the flexibility of the Silverstripe framework.